[intense_content_box icon="calendar" icon_color="#ffffff" size="3″ icon_stack_type="circle" icon_stack_color="#00cbf7″ position="topcenter" boxed="1″ shadow="0″ background="#f6f6f6″ border_size="1″ border_color="#00cbf7″ border_style="solid" title="Today's"]
The internets is filled with stuff, so much stuff it seems like a job just to keep up with it all. Here at Super-Id, we like to keep it simple – one thing, whether it's a photo, video, song, or whatever, they we think you should fucks with. We call it Today's…
[/intense_content_box]
[intense_spacer height="40″ /]
Christie Brinkley
Christie Brinkley, MILF Supreme
[intense_lead]This Uptown Girl is up there in age, but that's alright.[/intense_lead]
Remember this? This was my introduction to Christie Brinkley. I looked at her… then looked at Billy Joel… and then looked at her… and then I did a double-take on Billy Joel… and I realized that I messed up by never learning how to play piano. Christie Brinkley was a bad piece back in the day.
Present Day: I'm looking for the shortest checkout line at the supermarket and I see this. Firstly, I was shocked that People Magazine is still published. Secondly, I was shocked at the cover. What magazine besides Time or is it Newsweek that still published people over 40 on the cover? The woman looks good. Yes, I know she is caked up with makeup. And yes, I know that they got some dynamite photographer to light her amazingly. But there has to be something there to work with. And it's not like she was a sea hag prior to this cover. The woman has kept up very well and the truth is most dudes would jump all over that. You would too, so stop frontin'.
Now here is the thing, Christie Brinkley is 60-years old. She is beyond "mother" age to truly be considered a MILF, but the whole GILF (grandma) is not only corny, but it sounds awful. For that reason, we still consider Christie a MILF (perhaps Super-MILF or GreatMILF) and we'd still like a go with her. Case closed.
[intense_spacer skin="default" height="10″ clear="both"]
For the sake of context, here is Young Christie Brinkley.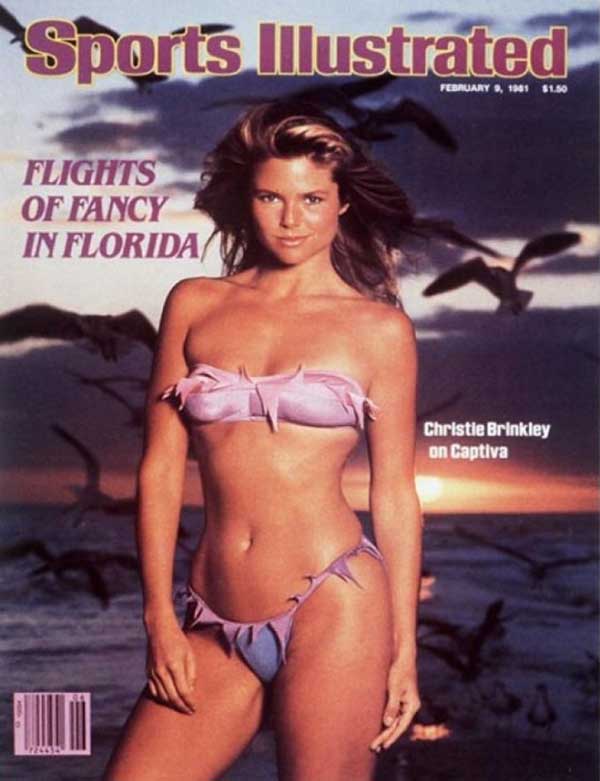 [intense_spacer height="50″ /]
[intense_hr type="solid" size="medium" title="Young, nubile Christie? Or ripe, mature Christie? Think these last two questions were creepy? Let us know in the COMMENTS." title_background_color="#ffffff" title_position="left" /]