Notice: A non well formed numeric value encountered in /home/siggyfreud/thesuperid.com/wp-content/plugins/intense/shortcodes/gallery/gallery-shortcode.php on line 175

Notice: A non well formed numeric value encountered in /home/siggyfreud/thesuperid.com/wp-content/plugins/intense/shortcodes/gallery/gallery-shortcode.php on line 180

Notice: A non well formed numeric value encountered in /home/siggyfreud/thesuperid.com/wp-content/plugins/intense/shortcodes/gallery/gallery-shortcode.php on line 186

Notice: A non well formed numeric value encountered in /home/siggyfreud/thesuperid.com/wp-content/plugins/intense/shortcodes/gallery/gallery-shortcode.php on line 186

Today's
The Internets is filled with stuff, so much stuff it seems like a job just to keep up with it all. Here at Super-Id, we like to keep it
simple – one thing, whether it's a photo, video, song, or whatever, they we think you should fucks with. We call it
Today's…
Jessica Burciaga
Jessica Burciaga as Jennifer Lopez as Jessica Burciaga
Jennifer Lopez. Jennifer Lopez. Jennifer Lopez.  Let's get it out of the way. Yes. Jessica Burciaga looks like Jennifer Lopez. A lot. A really fucking lot. It's uncanny. It's to the point where as a writer, it's a cliché, but dammit, you can't help it. Now imagine what life must be like for Miss Jessica Burciaga. She's a hot chick, and we all know hot chicks are judge on a regular, but she is judge for being hot and how much she looks like Jenny From The Block. 
I feel for this poor woman. I've been told I look like various celebrities and frankly, it's tired. I'm my own man with my own handsome dashing countenance. Dammit. Now imagine you look like an award-winning actress, dancer, and singer. And here's the rub, you don't act, dance, or sing. You just look super hot. So what do you do to separate yourself for Jenny LoLo? Pose for Playboy! Thank you, Jessica Burciaga for looking to distinguish yourself from your doppelgänger.
JLo Redux is currently dating DJ Drama, who some may know for his Gangsta Grillz mixtape series, but to me, he is more notorious for his beard-line and black pearl too-close-together eyes. Am I hating? Perhaps. But can you blame me? Have you seen Jessica Burciaga? Do you see what she looks like?
Soft-stalk Jessica Burciaga…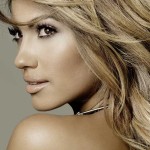 Miscellaneous Information
Her father is Mexican and her mother Lisa is French and Irish.
Was a Hooters girl.
Was a Bunny blackjack dealer in the Playboy Club.

Choose between Jennifer Lopez and Jessica Burciaga. Let us know your thoughts in the COMMENTS.