Notice: A non well formed numeric value encountered in /home/siggyfreud/thesuperid.com/wp-content/plugins/intense/shortcodes/gallery/gallery-shortcode.php on line 175

Notice: A non well formed numeric value encountered in /home/siggyfreud/thesuperid.com/wp-content/plugins/intense/shortcodes/gallery/gallery-shortcode.php on line 180

Notice: A non well formed numeric value encountered in /home/siggyfreud/thesuperid.com/wp-content/plugins/intense/shortcodes/gallery/gallery-shortcode.php on line 186

Notice: A non well formed numeric value encountered in /home/siggyfreud/thesuperid.com/wp-content/plugins/intense/shortcodes/gallery/gallery-shortcode.php on line 186

Today's
The Internets is filled with stuff, so much stuff it seems like a job just to keep up with it all. Here at Super-Id, we like to keep it
simple – one thing, whether it's a photo, video, song, or whatever, they we think you should fucks with. We call it
Today's…
Lacey Banghard
How Do I Love Thee, Lacey Banghard
Lacey Banghard. How do I lust/like/love thee? Let me count the ways.
Her name is Lacey Banghard. Imagine the type of teasing Lacey Banghard received as a child. Or as a teenager. Or as a young woman. Or as a glamour model My goodness.

She replies back on Twitter. More specifically, she replied back to me on Twitter with an old Twitter account I used to have. I respect, appreciate, and admire any woman smart enough to reply back to my unique brand of humor, wit, and insight in the real of 140 characters a tweet.

Lacey Banghard loves the animals. She appeared in an

ad for PETA for pet something or another

. Sorry. Too busy looking at the photos of Lacey to pay much attention to the message. I'm sure it's incredibly relevant and super-positive. Plus PETA can be batshit crazy about things.

Lacey Banghard was a Page 3 model for British tabloid The Sun. A girl needs to accomplish something in this life to prove her value. Page 3 works for me.
Here's something I'm conflicted about. Lacey Banghard appears to be giving up the world of glamour to focus on her entrepreneurial efforts in the world of skin care. Seeing how many people are walking around with bad skin, I understand the need and applaud her efforts, but on a purely selfish level, I'm sure I speak for many a man out there – I Hate Lacey Banghard. Not really… kinda sorta. 
Soft-stalk Lacey Banghard…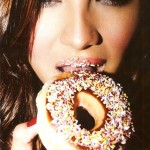 Random Facts
Middle name is Shameela
Her father is Asian Indian. Her mother is white British.
Is 5′ 2″ (no clue what that is in the metric system)
Wants to adopt a Black baby before she dies. (don't question me how I know this, I just do) And a pitbull puppy too!

Who wants to be Mr. Banghard? Tell us in the COMMENTS.