Notice: A non well formed numeric value encountered in /home/siggyfreud/thesuperid.com/wp-content/plugins/intense/shortcodes/gallery/gallery-shortcode.php on line 175

Notice: A non well formed numeric value encountered in /home/siggyfreud/thesuperid.com/wp-content/plugins/intense/shortcodes/gallery/gallery-shortcode.php on line 180

Notice: A non well formed numeric value encountered in /home/siggyfreud/thesuperid.com/wp-content/plugins/intense/shortcodes/gallery/gallery-shortcode.php on line 186

Notice: A non well formed numeric value encountered in /home/siggyfreud/thesuperid.com/wp-content/plugins/intense/shortcodes/gallery/gallery-shortcode.php on line 186

Today's
The Internets is filled with stuff, so much stuff it seems like a job just to keep up with it all. Here at Super-Id, we like to keep it
simple – one thing, whether it's a photo, video, song, or whatever, they we think you should fucks with. We call it
Today's…
Lana Dealessi
Lots and Lots of Lana Dealessi
Simple and plain, the Internets was made for people like Lana Dealessi. Point blank. I remember the very first time I got on the internet. The only thing the world wide web was created for in the very beginning was to trade, share, ogle, gawk, dream, fantasize about women like Lana Dealessi. I know this because me and every other guy I knew was doing the same damn thing.
Maybe I'm different. Maybe I've been doing this for too long. Lana Dealessi is clearly, clearly a sexpot. She knows it. I know it. You know it. But I feel kinda, sorta bad for just completely objectifying this woman. Maybe I'm becoming soft. Maybe I'm reading Jezebel and Hello Giggles too much. I have zero desire to have anything of substance with this woman. She has so effectively tittilated me to the nth degree that she has become a sex creature to me. She is a physical manifestation of male lust personified. She is a FemBot.
Taking a step back and looking at the situation objectively after I've continued to look at Lana Dealessi objectively, I've decided that I'm okay with this, because the other reason that the Internets exists is for cat pics and videos. It balances things out when it's all said and done. Back to the task at hand – staring lustily at Lana Dealessi.
Soft-stalk Lana Dealessi…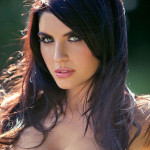 Random Information
British and Italian descent
Has a GG cup
Discovered by Netherlands glamour photographer Jan Te Bont

Can you articulate your lust for Lana Dealessi in the COMMENTS?