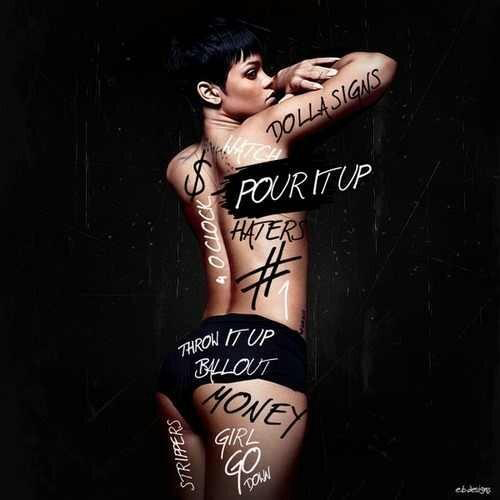 [intense_lead]
Don't call Rihanna a bitch unless you attach the word bad in front of it. Miley on the other hand…
[/intense_lead]
I'm a sucker for a girl fight which means I spend half of my viewing habits on reality tv (give it up for VH1's Ratchet Mondays) and the other half on Worldstar Hip Hop. My non-guilty pleasure helps explains my predilection for Oxygen's Bad Girls Club. Rihanna has just released a music video for her strip club anthem Pour It Up and simultaneously chin-checked Hannah Montana. Pour It Up, indeed!
Miley Cyrus hypnotized mainstream for a minute (and counting) with her display at this year's MTV Video Music Awards, but for anyone who consumes popular culture beyond MTV, VH1, anything on Bravo, and any talk show that has at least four women on it chatting about what happened yesterday knows that twerking has been around for a long time now. Society has a tendency to think that when the cute young white celebrity does something on live TV that they've never seen or heard of before that they were the ones to invent the damn thing. Sorry, America. Shaking your ass wasn't invented by the spawn of Achy Breaky Heart. The latest craze surrounding ass belongs to others.
In the midst of Cyrus' culture-culturing, Rihanna was caught on camera giving less than zero fucks about her performance (or Robin Thicke's Hamburgler suit). You know what was going through BadGirlRiRi's head – this heaux is trying to take my spot. And that spot is the sexbot of this generation, a position that Rihanna has been working hard at for years. The fact is that when most men (I would say all, but 98% isn't all) see Rihanna they want to smash; not make her their girlfriend, wife, boo thang, sidepiece, jump-off, or whatever. They just want to give her the D. No pullout. Right then. Right there. All day. This is a credit to Rihanna (ladies snicker, but hey…) because she isn't the mostest anything – not the prettiest, richest, she doesn't have the biggest boobs or the fattest ass, but more so than any other chick in the game right now she is the ultimate package of pure, unbridled sex appeal. The short hair. The crazy tats. The Bajan accent.The piercings.
Yeah… and she didn't have to stick her tongue out once.
[intense_video video_type="youtube" video_url="http://www.youtube.com/watch?v=ehcVomMexkY" video_size="wide" /]
[intense_spacer height="50″ /]
[intense_hr type="solid" size="medium" title="Share the number of ways you think Rihanna is a bad bitch in the COMMENTS below." title_background_color="#ffffff" title_position="left" /]