[intense_content_box icon="edit-sign" icon_color="#ffffff" size="3″ icon_stack_type="circle" icon_stack_color="#00cbf7″ position="topcenter" boxed="1″ shadow="0″ background="#f6f6f6″ border_size="1″ border_color="#00cbf7″ border_style="solid" title="Welcome to the Roger F. Bond Chronicles"]
I am Roger F. Bond and I like to tell stories, share shenanigans, pontificate, meander, contemplate, editorialize, and muse. And here is where those things live. These are my chronicles…
The Roger F. Bond Chronicles
[/intense_content_box]
[intense_spacer height="40″ /]
Naked Selfies, The ThirstTrap & Dong Pics
Damn you, Snapchat!
[intense_lead font_color="#00cbf7″]I very nearly became what I despised the most in the most world… and a hypocrite too boot![/intense_lead]
[intense_spacer height="10″ /]
[intense_dropcap color="#00cbf7″]I[/intense_dropcap]t started with a nearly naked woman… it always starts this way. 
This past weekend I was at a photo shoot. There was a female model. And a photographer. And I was shooting the video. The first look of the shoot had this sexy model posing up against the wall with fishnets, panties, and a fur coat on. Yeah… Did I mention she was her body was insane? But being a veteran of fashion, glamour, swimsuit and lingerie photoshoots, this was old hat. Being the nimble, social brand that Super-Id is, I snapped a pic and posted it on my personal Snapchat timeline and Super-Id's Instagram. I'm sure you've seen it on the Super-Id Instagram… right? (Follow us, for real!) It was a sexy pic. It was dripping sex. It was hot. Within ten minutes of all of this I got a Snapchat notification. Understand, I have never posted anything on Snapchat. I get the app and all, but I'm just not personally interested in pseudo/quasi-disappearing messages. The only person who sends me snaps is Laura Doré and all of her snaps suck since 90% of them are of her mentally-challenged dog, Butter. So I was surprised by the notification. I was more surprised by the naked selfie that came across my screen.
The female who sent me the snap is a girl I've known for a while. Always been attracted to her, but when we met she was dating someone. She's always been a bit of a mystery to me which added to her physical attractiveness in my mind and the resulting reaction in my loins. Visions of Hulk-Smashing ran through my head whenever she randomly popped in my head. Years after falling out of contact we've recently gotten back into the mix. Cool De La. We chat back and forth; nothing substantial. She's one of those hard-to-read-because-there-isn't-anything-to-really-read type of chicks. She just is who she is, so trying to read that just mixes you up. So we follow each other on social media and I'm certain she say the photo of voluptuous I posted. I'm sure of it. Snap from her. Now I've gotten a snap from her before, but it was some generic selfie that 18 million females on Instagram take. So I open it up in the middle of the shoot out of pure, unadulterated curiosity. What in the hell is THIS?
I'm going to try my best to recollect things – the damn snap lasted only ten freakin' seconds. She was naked. Well, she was definitely topless. She was doing that damn Maxim Magazine cover girl arm bra. She was leaning forward over her dresser. I can't remember if she was wearing knickers; I was too taken aback. Understand, I don't Snapchat. I don't sext. I don't Skype sex. I don't do technological flirt, romance, or sex. Eff that. I'm rooted in reality. I'm a here-and-now type of guy. If I need a fast DSL to appreciate what a woman is offering me at the moment 3000 miles away via my iPhone, I'll just pass. I'm good. But here is the thing – I was open. My nose got wide the hell open. I felt like I was in junior high and junior high was a bad time for any boy. 
Despite my newfound youthful exuberance, I managed to keep my shit together for the most part – emphasis on the most part. I texted her, "Glad to see you're thinking of me." Max Julien would have been proud. She replied with a 'thumbs up' emoji. Now here is the rub – I was tempted… I wasthisclose to asking her to send another pic. Arrrrrrgggggghhhhhhh! Never, ever ever ever ever ask a female to send a pic. Ever. Want to know what was worserer than that? I felt compelled to send her some sort of pic… a dong pic! AAAAAAARRRRRRRGGGGGHHHHHH! What the hell has gotten into me? I fell for the thirst trap so gotdamn hard I almost started begging for more visual stimuli. And to compound my bitchassness, I almost Greg Oden, Brett Favre, Geno Smith, [insert stupid athlete name here] her a pic of myself. I came from the school of thought that NOTHING good will ever come out of taking a picture of your package. Nothing. Ever. And here I was ready to violate a basic man tenet because I got open off of Snapchat. What in the hell…?
I'm embarrassed. I can't believe I almost became one of those guys – thirsty, corny, and dumb. I don't even take personal pics that tough, much less selfies, so how was I so ready to find the right angle to shoot my junk. Guys really do this! I've seen the aftermath of guys getting caught up and making sure that interesting images of them are forever linked to their Google image search results page. I always asked myself how could they be so stupid and short-sighted until I realized that the thirst trap isn't Instagram or Snapchat. Or that the guys are even that dumb (although a lot of them are). Women – they're the thirst trap. It doesn't matter the platform or medium, as long as women operate on it men will willfully walk into their web. Remember Ulysses and the Sirens. You remember from 8th grade English how Ulysses resisted the Sirens' song? He stuffed his ears with wax and tied himself to his ship's mast. That is how gotdamn strong the Sirens' song is and that's how strong the thirst trap is on social media. Today's equivalent of ear wax and rope is getting a flip phone and no internet connection. Shit is that real. Before you know it things will end badly and you'll be on a website dedicated to guys who've snapped dong pics really thinking they would disappear after 10 seconds. And to think it all started with a naked woman.
[intense_spacer height="15″ /]
[intense_content_box icon="asterisk" position="topleft" icon_stack_type="circle" title="PLEASE NOTE "]Don't ever, ever, ever ever ever ever ever send dong pics. Shit! Don't even take a picture of your junk. Just don't. Please Stop The Madness.[/intense_content_box]
[intense_spacer height="25″ /]
Next time you get a suggestive pic from a female or you think about shooting a dong pic, just remember this:
[intense_spacer height="15″ /]
And this:
[intense_spacer height="15″ /]
Please keep this site in mind.
And hey! Look below and remember the message!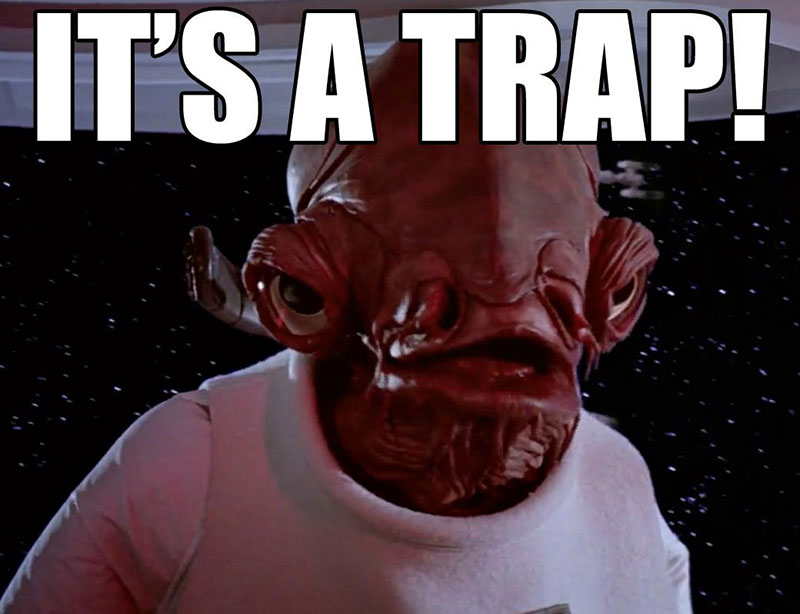 [intense_spacer height="50″ /]
[intense_hr type="solid" size="medium" title="Dong pics? Yay or nah? Sound off in the COMMENTS below." title_background_color="#ffffff" title_position="left" /]