[intense_content_box icon="calendar" icon_color="#ffffff" size="3″ icon_stack_type="circle" icon_stack_color="#00cbf7″ position="topcenter" boxed="1″ shadow="0″ background="#f6f6f6″ border_size="1″ border_color="#00cbf7″ border_style="solid" title="Today's"]
The internets is filled with stuff, so much stuff it seems like a job just to keep up with it all. Here at Super-Id, we like to keep it simple – one thing, whether it's a photo, video, song, or whatever, they we think you should fucks with. We call it
Today's…
[/intense_content_box]
[intense_spacer height="40″ /]
DJ Snake Ft. Lil Jon – Turn Down For What
Get Crunk and Have Shots!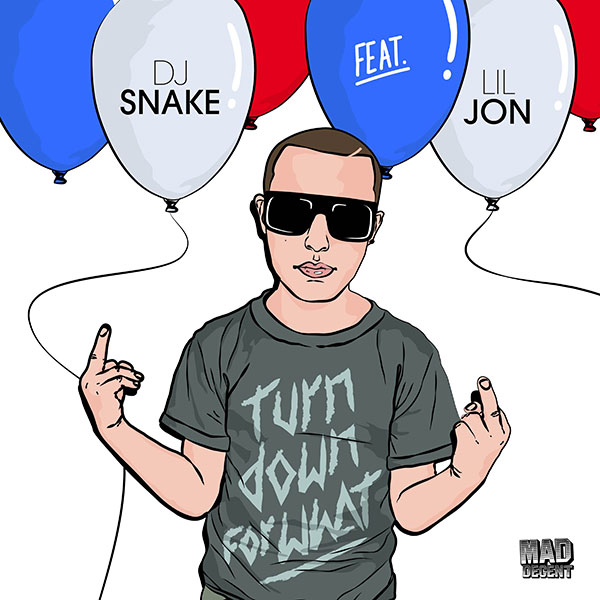 Ice Ice emailed me a link this past Friday and the subject heading was "This is how all Friday's should be…." I finally got around the watching it late Monday night. I should have watched it Friday. Turn Down For What is 2014's much better version of that bullshit Harlem Shake or an almost-as-good version of Just Blaze and Baauer featuring Jay-Z's Higher.
The reason we ride with Turn Down For What is because any song with Lil Jon singing the hook or doing ad libs is alright with us. Plus, check out the video. The violent pelvic thrusts? Been doing this for years now. Get crunk, bitches!
[intense_spacer height="150″ /]
[intense_spacer height="50″ /]
[intense_hr type="solid" size="medium" title="Eff with DJ Snake!" title_background_color="#ffffff" title_position="left" /]
[intense_button color="#000000″ size="large" link="http://www.djsnake.fr" target="_blank" icon="globe" icon_position="right"]DJ Snake Website[/intense_button]
[intense_button color="#3b5998″ size="large" link="https://www.facebook.com/djsnake.fr" target="_blank" icon="Facebook" icon_position="right"]DJ Snake Facebook[/intense_button]
[intense_button color="#55acee" size="large" link="https://twitter.com/djsnake" target="_blank" icon="twitter" icon_position="right"]DJ Snake Twitter[/intense_button]
[intense_button color="#3f729b" size="large" link="http://instagram.com/djsnakeparis" target="_blank" icon="instagram" icon_position="right"]DJ Snake Instagram[/intense_button]
[intense_spacer height="50″ /]
[intense_hr type="solid" size="medium" title="Tune in or turn off? Let us know in the COMMENTS below." title_background_color="#ffffff" title_position="left" /]