[intense_content_box icon="calendar" icon_color="#ffffff" size="3″ icon_stack_type="circle" icon_stack_color="#00cbf7″ position="topcenter" boxed="1″ shadow="0″ background="#f6f6f6″ border_size="1″ border_color="#00cbf7″ border_style="solid" title="Today's"]
The Internets is filled with stuff, so much stuff it seems like a job just to keep up with it all. Here at Super-Id, we like to keep it simple – one thing, whether it's a photo, video, song, or whatever, they we think you should fucks with. We call it
Today's….

[/intense_content_box]
[intense_spacer height="40″ /]
Kid Ink "Main Chick" Remix – Ft. Chris Brown &
Tyga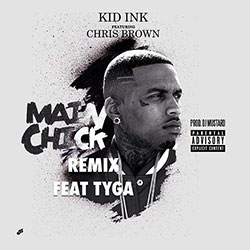 I'm certain you're halfway familiar with Kid Ink. No? You must recognize his first hit song, "Show Me" featuring Chris Brown. The funny thing is that the song features Chris Brown when damn near everybody thought it was Chris Brown's song. Turns out Kid Ink not only sings like Chris Brown, but he kinda looks like Chris Brown as well (light-skinned Negro thing). 
Lo and behold, we are blessed with a new Kid Ink single, and guess what? To add to the confusion, Chris Brown is on this song too. Kid Ink, what are we to think? You are a Chris Brown doppleganger times two. 
Now the icing on the cake is that "Main Chick" sounds a hell of a lot like "Show Me."
I will give you tons of credit for penning a song NOT about side chicks, side pieces, jump-offs, and basic bitches.
But we have to subtract some credit for putting Tyga on your record. This Tyga… Never forget, people. Never forget.
[intense_icon type="thumbs-up" size="3″ color="#00cbf7″ /][intense_icon type="thumbs-up-alt" size="3″ color="#00cbf7″ /][intense_icon type="thumbs-up" size="3″ color="#00cbf7″ /]
[intense_spacer height="25″ /]
[intense_hr type="solid" size="medium" title="Who's feeling this attack of the light-skinned Negros? Let us know in the COMMENTS." title_position="left" /]