[intense_content_box icon="calendar" icon_color="#ffffff" size="3″ icon_stack_type="circle" icon_stack_color="#00cbf7″ position="topcenter" boxed="1″ shadow="0″ background="#f6f6f6″ border_size="1″ border_color="#00cbf7″ border_style="solid" title="Today's"] The Internets is filled with stuff, so much stuff it seems like a job just to keep up with it all. Here at Super-Id, we like to keep it simple – one thing, whether it's a photo, video, song, or whatever, they we think you should fucks with. We call it Today's… [/intense_content_box] [intense_spacer height="40″ /]
Hot Shots Calendar 2015
Hot Shot Calendars is filled with Hot Models, but also is in Hot Water
For the love of God, I don't understand the calendar business. More specifically, the hot model calendar business. Why are people still making these things? They haven't been hot since Farrah Fawcett was on a poster on hundreds of thousands walls back in the late 70s, early 80s. Funny enough, I know the answer to the question as to who are these calendars still being made for – prisoners, soldiers, and stan/losers – either you don't have a smart phone and find a need for a calendar, or you are an obsessive fan that still prefers tangible spank bank material of your favorite model.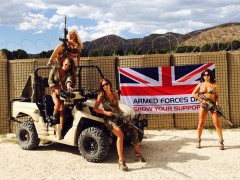 Now with my editorial posturing over, let's focus on attention upon the Hot Shots Calendar for 2015. Apparently, Hot Shot Calendar has been a thing since 2011, putting out calendars of mostly hot UK models getting busy with guns. Keeping it real, girls and gun is nothing new on the Internets. Scotty JX has been doing babes and bullets for as long as the internet has been around. Granted, Scotty FX and Actiongirls is way over the top in every way a website with girls and guns can be over the top, and his site looks like it was birthed during the AOL heyday, but dude was first marrying hot girls and big boy military toys. The difference with Hot Shots Calendar is that they aren't as cartoonish with their look and feel, but they actually have altruistic motivations, as awareness and donations to various UK and US charities. Guilt-free objectification of women is the best type of objectification of women. Wish we thought of it.
We're now hearing of Hot Shot Calendar because the company has been swirling in some controversy. "U.S. Army bosses have launched an investigation after British models allegedly used equipment at the Draper compound without their permission, according to reports." Any press is good press. If it wasn't for that press, we would be clueless to the fact calendars are still considered a good business model. Hot Shots Calendar has a response to the controversy. Who are we to judge? Let's get onto the babes! 
This year's Hot Shot Calendars includes: Cindy Prado, Rosie Jones, Daisy Watts, amongst others. Previous models included: Sophie Howard, Lucy Pinder, Holly Peers, India Reynolds, Rhian Sudgen Emma Glover, and Sophie Reade. 
Think of playing Call of Duty with a grip of really hot chicks. That's the best way to view the whole Hot Shots Calendar concept and controversy. It's all in good fun. And there isn't anything wrong with that. Check out the Hot Shots Calendar 2015 Behind The Scenes video.
Just because, take a look at Hot Shots Calendar over the years.
[intense_gallery skin="default" type="touchtouch" layout="masonry" id="10287″ include="10320,10315,10314,10313,10292,10291,10290,10289,10327″ show_tooltip="0″]
[intense_button skin="default" color="#f51111″ font_color="#ffffff" size="large" link="http://www.hotshotscalendar.com/collections/all" target="_blank" title="Hot Shots Calendar" icon="fire" border_radius="5px" gradient="1″ block="1″]Get Your Hot Shots Calendar Here! [/intense_button]
[intense_spacer height="25″ /]
Who wants a calendar? Tell us in the COMMENTS.