[intense_content_box skin="default" title="Today's" shadow="7″ icon="calendar" size="5″ border_size="2px"]The Internets is filled with stuff, so much stuff it seems like a job just to keep up with it all. Here at Super-Id, we like to keep it simple – one thing, whether it's a photo, video, song, or whatever, they we think you should fucks with. We call it Today's… [/intense_content_box] [intense_spacer height="40″ /]
Spice "Conjugal Visit" Ft. Vybz Kartel
Fuck subtlety. That word has zero meaning when dealing Vybz Kartel, as nothing about this man or his music is subtle. We're talking about a man who willfully bleached his skin. Please note, Vybz Kartel is black Jamaican man, who bleached his skin. Oh, did I mention that Vybz Kartel was sentenced to life in prison for murder? Murder. He killed his melanin first, then he killed a man. Like I said, fuck subtlety.
Reggae music videos are the Bollywood films of the Western Hemisphere – ridiculously over-the-top and insanely fun to watch since they never make a lick of sense. The video for "Conjugal Visit" continues this trend, as the song itself is insane. Vybz Kartel's incarceration would not stop Spice from shooting this music video, as she casted a Vybz Kartel look-a-alike to be on the receiving end of your dutty wine in the prison cell. Please note, this song is about having sex with your man while he is incarcerated.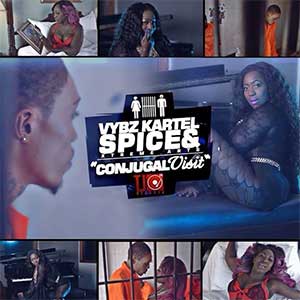 For the reggae-challenged, here is a sampling of some of the lyrics of "Conjugal Visit."
Yo pum pum tight
Mi gyal yo hold mi
Da wood yah long like a thousand story
A you mi say please skin out yo glory
Mi waan yo come fuck mi like yo own mi
Mi love yo, yo know mi love you don't it
Mi love yo, come fuck mi like yo own mi
Mi love yo, yo know mi love you don't it
Mi love yo, come fuck mi
A simple translation of this verse is: fucking. Love to fuck. And fucking. He wants to fuck her. She wants him to fuck her. I would keep translating, but it would resemble a passage from 50 Shades of Grey.
For the sake of all parties involved, we here at The Super-Id sincerely hope that this is a case of art imitating life with Vybz Kartel getting some conjugal visits. 
[intense_spacer height="25″ /]
If you got sent away, would you get conjugal visits? Tell us in the COMMENTS.