[intense_content_box icon="calendar" icon_color="#ffffff" size="3″ icon_stack_type="circle" icon_stack_color="#00cbf7″ position="topcenter" boxed="1″ shadow="0″ background="#f6f6f6″ border_size="1″ border_color="#00cbf7″ border_style="solid" title="Today's"]
The internets is filled with stuff, so much stuff it seems like a job just to keep up with it all. Here at Super-Id, we like to keep it simple – one thing, whether it's a photo, video, song, or whatever, they we think you should fucks with. We call it
Today's….

[/intense_content_box]
[intense_spacer height="40″ /]
Katy Perry – "Dark Horse" Ft. Juicy J.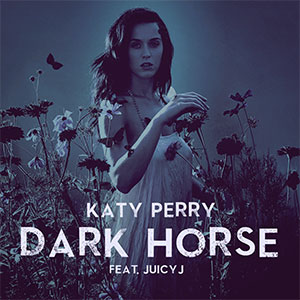 Where to begin?
Did not realize this video has been out for a month.
Shows you how important Katy Perry is in my world.
Was shocked that urban radio stations even played this record.
Glad to see that Juicy J has gone the Snoop Dogg/Lion route of selling out and willing to jump on anyone's record as long as the check clears. [Being very serious here.]
Really like this song although I have zero idea what it's about and why it's called Dark Horse.
More cultural appropriation going on… nice. [Be clear – I'm being super-sarcastic right now.]
I hope there is an Egyptian pop star out there with a song about who-knows-what and they have a music video where everyone dresses up like ancient white people. Yeah…
The music video is crazy.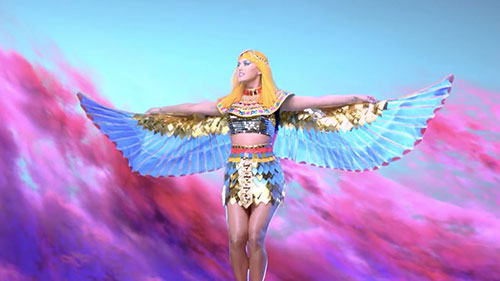 In a good way.
And a very, very bad way.
Not a big fan of Katy Perry.
Not a fan of Katy Perry in the leastest with no makeup on.
She looks like Alice from The Brady Bunch.
Big fan of Katy Perry's big rack.
This gif never gets old.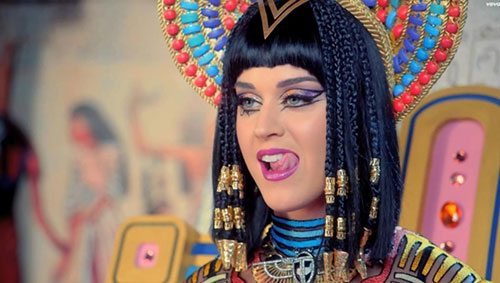 Was she eating Cheetos?
The fact that Katy Perry does splits makes me rethink things.
Wait… did Juicy J say "trippy" in this song? That's his trademark. How does a man do a pop record and forget his trademark?
Okay. He barely says it.
This song needs to be played in a cavernous club or in your car with the windows down, sunroof open and you doing at least 20mph over the speed limit to be truly appreciated. 
[intense_spacer height="100″ /]
[intense_icon type="thumbs-up" size="3″ color="#00cbf7″ /][intense_icon type="thumbs-up-alt" size="3″ color="#00cbf7″ /][intense_icon type="thumbs-up" size="3″ color="#00cbf7″ /]
[intense_spacer height="25″ /]
[intense_hr type="solid" size="medium" title="Let us know what kind of way Katy Perry makes you feel in the COMMENTS." title_position="left" /]