Today's
The Internets is filled with stuff, so much stuff it seems like a job just to keep up with it all. Here at Super-Id, we like to keep it simple – one thing, whether it's a photo, video, song, or whatever, they we think you should fucks with. We call it
Today's…

Sevyn

Streeter "B.A.N.S."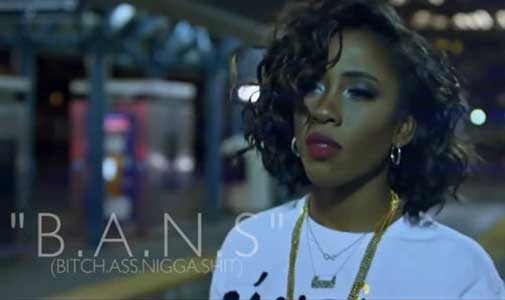 Oh, poor Sevyn Streeter. I'm shedding a tear for you. You are the latest female R&B singer to bemoan the ways of man, and in particular, how man has done you wrong. We can go back to Aretha Franklin, Betty Wright, Mary J. Blige, and Keyshia Cole just to name a few. Women are all the time made at men, make a song out of it, and turn it into an anthem so other women can sing along to a song that says men aren't shit. Okay. Misery loves company helps sells records, it seems.
Back to Sevyn Streeter and B.A.N.S. B.A.N.S. is an acronym for bitch-ass-ninja-shit (ninjas is the colloquially accepted term to use instead of the N-word, my ninja!). Clearly someone did Sevyn Streeter wrong… and she's fed up… and she's going to write a song about it… and here it goes! The saving grace is it isn't Taylor Swifty – annoying.
With so many 'men ain't shit' songs, you'd think women would learn by now – men ain't shit. Listen here, Sevyn Streeter, the sooner you realize that most men are dogs (hounds, dogs, or puppies – think about it…), the sooner you can stop the anthems or become the Black Taylor Swift.
Shout-out to Angela Yee for the cameo in the video. Sevyn Streets needs to Ask Yee.
When do you think
Sevyn

Streeter will learn? Tell us in the COMMENTS.