Today's
The Internets is filled with stuff, so much stuff it seems like a job just to keep up with it all. Here at Super-Id, we like to keep it
simple – whether it's a photo, video, song, or whatever, they we think you should fucks with. We call it
Today's…

Robin

Thicke

"Get Her Back"
Here My Dear, Robin

Thicke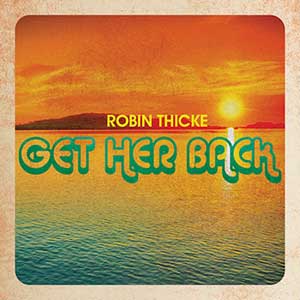 Irony. Got To Give It Up was a hit record for R&B icon Marvin Gaye in 1977. In 2013, Robin Thicke swaggered jacked Got To Give It Up for his hit, Blurred Lines. Robin Thicke preemptively sued the Gaye estate for the lawsuit they knew was coming for the swagger jacking. And yes, the Gaye estate sued. In 1978, Gaye released Here, My Dear, an album dedicated to his soon-to-be ex-wife Anna Gordy Gaye, where half of the album's royalties would go to Gaye's ex-wife as part of their divorce settlement. These days, Robin Thicke fucked up his relationship with his super-fine wife, Paula Patton, and has dedicated his next album, Paula, to Paula Patton in an effort to win her back. Karma conspirators, Paul Patton lovers, and interracial marriage haters are gleefully chanting "Karma is a bitch" like a daily mantra.
You know how Super-Id feels about Paula Patton. You know how Super-Id feels about bitchy men singing bitchy songs about women. We must admit, we're Robin Thicke fans. Dude is talented. We also rock with blue-eyed soul. But this is sad. This is bad. It's really pathetic. And I'm not sure if the song being a really good song makes the whole situation better or worse. If the album is a hit, what happens? Paula is owed royalties? She's guilted into reconciliation? If the album bombs, is it a sign that the Robin Thicke/Paula Patton union is no longer meant to be? Or is it simply a matter of Robin Thicke put out an album of crappy songs that doesn't resonate with anyone?
Anyway you slice things, it's just a bad look. Good video. Great song. Hot wife. Bad look. Good luck to you, Robin Thicke.
Who wants to see Robin

Thicke

win? Share in the COMMENTS.